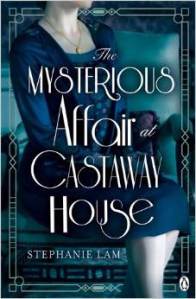 Beach Hut novelst Stephaine Lam describes how she came to write her first novel: The Mysterious Affair at Castaway House
I had invented a seaside town, Helmstone, and I was searching for a story that I could tell within it. I wanted to get across the same sense of fun that Agatha Christie does in her writing, while trying to evoke atmosphere and place so that the reader can get under the skin of the book. I was in the middle of struggling to find a plot to hang all of this on, when I found myself writing a sentence, The first time I ever saw Castaway House I knew it was meant to be mine. And from there, everything else just flollowed.

reading diet

When writing The Mysterious Affair at Castaway House I became totally obsessed with Helmstone; I went to sleep thinking about it and woke up with it on my mind. I commute to my day job and in the morning I use the journey as planning time. While writing the book I also went on a strict reading diet; according to which part of the novel I was writing. I tried to only read British books written, and set in, the 1920s and the 1960s, in an attempt to absorb myself as fully as possible in the world of the novel.

When I finished Castaway House, I targeted agents who represent authors whose novels I loved and whose work I thought might be similar to mine. First on my list was Judith Murray at Greene & Heaton who represents Sarah Waters, one of my favourite writers. I spent two weeks writing my pitch letter and synopsis to her, trying to get it perfect. Anyway, something must have worked because she loved the book, took it on, and then came another test; she sent it out into the world, to see if any publishers wanted to take it on.

book deal

Two nail-shredding weeks later, my agent called me as I was crossing a busy junction heading home from work. Amidst buses wheezing, car horns honking, and the blare of reggae from the Caribbean takeaway across the road, I jammed a finger in one ear and just about managed to work out what she was saying; I had a book deal. And not just any book deal; it had come from Penguin Books. Since then, I've been on an absolute giddy high.
You can follow Stephanie on Twitter @stephanielam1